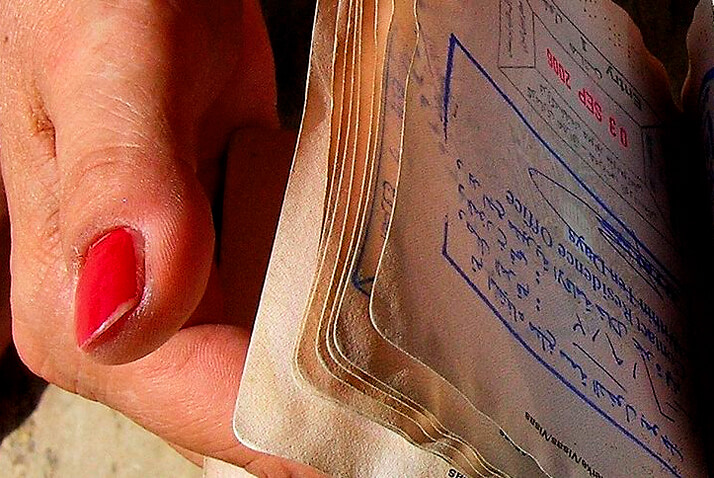 We have put together a checklist for you with steps and information regarding commonly asked questions and concerns to help make the preparation for your trip smooth and easy. But please keep in mind that tourists industry in Belarus is developing at a fast pace. Therefore please check all the rules regarding visas, invitations, migration cards and registrations with the Belarusian embassy in your country.
Visa or no visa to visit Belarus?
If you are from one of these countries (see list below) and want to visit Belarus for no more than 5 days via the Minsk National Airport (arrive and depart by plane), we have good news for you! As of 2017, you do not need a visa. All you need is a valid, up-to-date passport (must be valid for at least 90 days after your departure from Minsk), and or other official documentation from your country permitting foreign travel along with the appropriate photo identification. You will also need medical insurance (more info below) and money (around €22 per day). Two important things to remember is that a five day visa-free visit does not work if you arrive or leave Belarus via any airport in Russia and the arrival and departure days count as full days in this 5 day visa free travel.
In all other cases (a trip for more than 5 days or travelling by train, bus, or car) you will need a visa to enter Belarus.
If you are from Vietnam, Haiti, Gambia, Honduras, India, China, Lebanon, Namibia, and or Samoa, and want to visit Belarus under the "no visa for 5 days regulation", you should have a valid multi-visa to the EU states or the Schengen Area with a mark confirming the entry to their territory and a return plane ticket.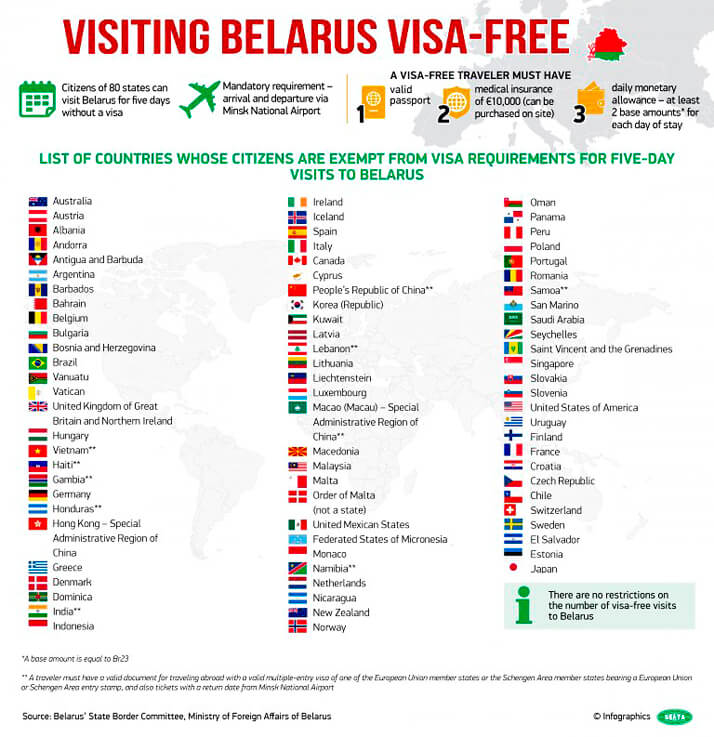 NO VISA for up to 30 days trip
If you are from: Brazil, China, Cuba, Ecuador, Israel, Macedonia, Mongolia, Montenegro, Qatar, Serbia, Turkey, and or Venezuela and you want to visit Belarus for up to 30 days, then you do not need a visa if you are arriving and departing via the Minsk National Airport.
NO VISA AT ALL
If you are from: Azerbaijan, Armenia, Georgia, Kazakhstan, Kyrgyzstan, Moldova, Russia, Tajikistan, Uzbekistan, and or Ukraine, and you want to visit Belarus then there is no visa required no matter how you enter Belarus.
For any further questions, please check the website of your nearest Belarusian Embassy or Consulate to find out the most current and up-to-date information regarding visas and travel to Belarus.
SPECIAL CASES
Foreigners who want to visit Belovezhskaya Pushcha National Park or Augustow Canal, who are not travelling into Belarus via the Minsk National Airport, can do so for a few days without a visa. For instance, if you want to visit Belovezhskaya Pushcha you can do without a visa up to 3 days if you cross the border at the border checkpoint Pererov–Belovezha at the Belarusian-Polish border. Moreover, if you want to visit Augustow Canal you can do up to 5 days without a visa when crossing the border at the border checkpoints Lesnaya-Rudavka or Bruzhi-Kuznitsa Belastotskaya at the Belarusian-Polish border, and Privalka-Swiandubre or Privalka-Raigardas at the Belarusian-Lithuanian border.
How to apply for a visa?
If you are going to Belarus for more than 5 days and you are not from a country listed as "No Visa", you must obtain a visa. Although a bit more challenging than just jumping on a plane, it is definitely worth the effort. Belarusians require a visa most places we travel and find our visa stamps a beautiful souvenir of the process and we are happy to help guide you step-by-step through this process. It will be well worth the effort. So, here we go: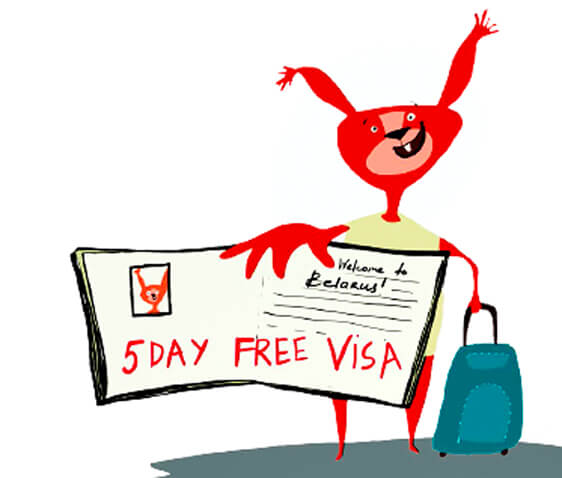 STEP 1: Find out whether your country has a Belarusian Embassy or Consulate by checking their website. There you will also find the up-to-date info and Embassy rules specific for your country.
STEP 2: Get your stuff (documents) ready! In general you need to send the following documents to apply for a visa:
Visa application form (a form you will find on the Embassy/Consulate website that you found in Step 1) In general, there are only three types of Belarusian visas: transit (valid for up to 2 days), short term (up to 90 days) and long term (up to a year, allowing you to stay 90 days in Belarus within this one year). The visas can be single, double, and multiple-entry. Most tourists usually get a single entry, short-term visa.
One colour photograph (35×45 mm, not older than 6 months please). Keep in mind the requirements for your passport photograph.
Valid passport or travel document (should be valid for at least 90 days following your planned departure from Belarus).
Medical insurance. It is mandatory for all foreigners, (whether you need a visa or not) to have medical health insurance. A copy of your medical insurance certificate will be required when applying for a visa at the Embassy or Consulates. You will also need to show the original certificate upon your arrival at border control (once again, whether or not you have a visa). So, if you do not have medical travel insurance; you can buy it online, through any insurance company, and or travel agency. Some banks even offer travel insurance to their premium account holders. Just make sure that the insurance you take out is valid in Belarus (It should state somewhere within the form and or certificate Belarus, Europe incl. Belarus or Worldwide).
If a visa is required, you will also need a confirmation of the visa fee payment, which you will need to take with you or provide a copy of to the Embassy or Consulate where your visa will be granting. (The cost of a visa differs depending on your country of origin and the visa type. For most countries, it is around €50-60, while for Poland, Lithuania, Latvia, and Estonia it costs €25. For further information regarding visa fees check your local Belarusian Embassy/Consulate's' website.
For some countries you must provide additional information to acquire a visa. Visa support documents can differ depending on the purpose of your travel. The good thing is that in many European countries and elsewhere, you do not have to provide support documents when applying for a private, single entry, or short-term visa (less than 30 days). Nevertheless, always check with the Embassy/Consulate before applying to make the process less of a hassle.
STEP 3: After having collected all these documents, you can go to Step 3: print them, and get them to the Embassy! In some countries, you need to go to the Consulate in person, in others – you can send the documents by post. So check this with your Embassy! Additionally, if you must visit your Embassy in person make sure you are clear on their visitation rules (some Embassies do not allow electronics such as phones, tablets, and or computer on site).
STEP 4: Wait 5 days! Your passport and visa should be returned to you in 5 working days. You can also choose a 2 day delivery for an additional cost.
Getting your visa at the airport
It is also possible to get your visa directly at the airport if you don't have time or opportunity to go through the standard visa procedure. But (yes, there is always a but), you have to apply to these rules if you want to get your visa at the airport:
You fly with a direct flight to Minsk (again no transfer in Russia).
You have money to spend as the visa at the airport will costs you twice or three times more. You still have to send (two days before or even earlier) all the documents mentioned above to the Consular Department of Minsk National Airport.
Prepare yourself for border control
So, you arrive at border control. Historically, Belarusian border control agents have not been noted as the friendliest and smiley ambassadors. However, in the past years we have seen improvements, especially if you try to talk a bit of Belarusian or Russian. So, here's what you need to pass border control without stress or surprises!
– Have your passport ready with a beautiful Belarusian visa in it (or just a passport, if no-visa required).
– A filled in migration card that you have been given on the plane, train, or bus by the stewards. You must fill in the two identical pages A and B. Border control will take form A while B must be held onto and returned to border control when you leave the country. Guard this form with your life!!! If you lose it, you could end up paying a fine of around €500!! OUCH! If you stay in Belarus for more than 5 working days you must get a registration stamp on form B within the first 5 working days.
– A bit of Russian or Belarusian language skills would come in handy. A simple hello and goodbye will do, so prepare this one and see what these magical words can do for you.
– Check whether you have cash hidden in your passport This used to be a form of bribery, and you don't want them to think you are trying to bribe them, as this concept of getting things done fast is no longer practised in Belarus.
– Taking pictures, videos, or talking on the phone is also prohibited, so please wait till after you are clear and out of border control.
Getting from Minsk airport to the city
Congrats! You made it through border control! Now you must get into the city! There are several modes of transportation that will bring you into the city depending on how much you want to spend or whether you are travelling on your own or with a group. Seeing that we are locals and do this quite often, here are our recommendations.
– If you are travelling by yourself and/or don't want to spend a lot of money commuting, then we recommend that you to travel by bus. Number 300E will take about an hour from the airport to city centre and the bus will make two stops: one at Urucca Metro and the other at Central Bus/Train Station. This route will take you along the famous Independence (Niezaleznasci) Avenue, so you can enjoy some sightseeing along the way. The tickets for the bus can be purchased in the airport terminal and from the driver. The bus will cost 4 BYN (about €2). So it is best to exchange some money at the airport if you want to purchase tickets from the bus driver; its also good just having small change on you for other minor purchases. There are also several ATM's located in the airport. Buses run pretty much all day and night, leaving almost every hour. The bus stop at the Airport is located in front of Gate 5-6 in the arrivals area (follow the bus sign).
– You can also get a minibus numbered 1400TC or 1430TC. It might be a bit less comfortable but a bit more adventurous. The costs are pretty much the same as the bus, and you can buy your ticket from the driver. You will also find the minibus in front of Gate 5-6 in the arrivals area.
– If you are travelling alone or just prefer a more comfortable drive, we recommend that you to take a taxi which are also located in front of arrivals Gate 5-6. You can either find one on the spot or order a taxi from the National Airport Service in advanced. Be aware that there are a lot of taxi drivers; freelancers and company taxies. Registered drivers should have a special licence and a list of prices inside the taxis. The most important detail to remember is that you don't want to be ripped off! So negotiate with your best Russian, English, and with body language a price from the airport to the city not more than 60 BYN (€30). The distance from the airport to city centre is about 42 km, making it a travel time (without traffic) of 30-40 minutes. The prices start from 30 BYN (€17). Additionally, you can also book a car in advance via Uber: a trip to the nearest metro station Urucca will cost €10 or to the city centre €16.
– If you feel like renting a car (around €40-50 a day) you will find several car rental services in arrival Gate 3-4 on the first floor (Sixt, Auto-Sale, Avis).
When travelling by car
If you come to Belarus by car you need to have:
– International Drivers Licence.
– Documents showing that you are the owner of the car (originals not photocopies).
– The original international motor insurance certificate: the Green Card. Check here if your country is a member of the Green Card system. In case you do not have this certificate you can always get it at any Belarusian insurance company or at the Belarus border (the cost depends on the length of your stay – €5-50).
Detailed information about state border checkpoints as well as updates about border crossing queues and other information can be found on the State Border Committee of the Republic of Belarus website.
Be aware of toll roads in Belarus because foreign vehicles have to pay for using them. Only drivers of cars (with the technical total weight of 3.5 tonnes or less) from Custom Union countries (Belarus, Russia, Kazakhstan, Armenia and Kyrgyzstan) are free of charge.
Temporary registration for 5 day + visitors
This might be the strangest and most bureaucratic thing you have encountered; if not then you have been to some exotic countries! So, the deal is that if you stay in Belarus longer than 5 days in a private apartment or at friend's place you need to get a temporary registration at the Citizenship and Migration Department of the Ministry of Internal Affairs in the area where you are staying. You must register within five days upon your arrival (these five days include workdays and Saturdays and exclude Sundays and public holidays). Otherwise, you will get a fine of up to €500 on the border. If you are staying in hotels or hostels they will register you automatically. The citizens of Latvia, Lithuania, Russia, Ukraine, Kazakhstan and United Arab Emirates do not need to register if you are staying for 30 days or less. There is rumour that this complicated registration process will be made electronic, so via the internet in the near future. We will keep our fingers crossed.
Just keep in mind that on Sunday and Monday migration offices are closed.
For temporary stay registration you need: a request and application form from the owner of the place where you are staying during your visit, your passport, medical insurance certificate, migration card (Form B), and a receipt of the registration fee payment (around €6). Ask for bank details for payment in the department you register.
If you are staying at a friend's place, we suggest you visit the registration office together, as he/she just needs to show his/her passport for your registration. Usually this administrative procedure does not take a lot of time, however, in some cases you could spend several hours. The stamp with the registration will be put on your migration card (Form B), so when you get it back make sure it is in place. Again, we cannot stress how important this form is…so don't lose it!
Belarusian money and exchange
Our national currency is the Belarusian rouble (BYN). This currency is quite special and rare, so be aware that once you obtain Belarusian roubles they are to be spent in Belarus. This means that you will have to exchange on our territory all the BYN you have left, or take it home with you as a souvenir. €1 is about 2.02 BYN, but you should check it right before your trip. You can easily exchange your money (Euro, US dollars, Ukrainian hryvnia and Russian roubles) at banks or exchange offices in hotels, supermarkets, shopping malls, at the airport, railway, and bus stations. You do not pay any exchange commission and the exchange rate is pretty much the same everywhere. There are ATMs located all over town where you can withdraw BYN, and in some cases Euro and US dollars. It is also possible to pay by card almost everywhere. You will be surprised!
Here's a fun fact: Before the denomination in July 2016, €50 was equal to 1,000,000 BYN making most people millionaires in Belarus. While for tourists this was quite exciting, for us it was challenging. Our wallets bulged but held very little value. We were also one of the only countries without coins in circulation. We are still getting used to the fact that coins have a value.
Weather
Many people think that Belarus is a cold country. Well, yes, winter can be cold but summer is warm and sometimes even too hot. The best time to visit is from May to September for the warmest weather of the year and the longest hours of sunshine. Bring an umbrella just in case as Minsk has more fog and rain than London.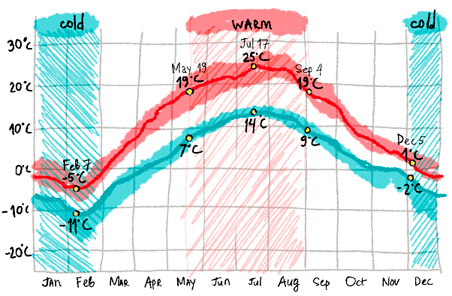 Some practical information
Time zone: UTC/GMT +3:00
Telephone code: +375
Minsk code: 17
Sockets: 220V, 50Hz (European plugs fit. For British and American plugs you need an adapter)
Tips: 5-10 % at the restaurants/cafes
Staying in touch
While Belarus may seem a bit exotic and off-the-grid, you will not disappear online. We have quite good Wi-Fi connections in most cafes, shopping malls, and hotels – you just need to ask for the password. In case you want to have mobile internet and do not want pay a lot to your local mobile company (check the tariffs and if they consider mobile phone usage in Belarus as roaming) you will need to buy a simcard in the shop of our three main Mobile and Internet providers: Velcom, MTS, or Life. A Belarusian sim card will only work on your phone if it is unlocked by your local mobile provider. Don't forget to bring your passport with you.
To connect to the public Wi-Fi you need to have a Beltelecom card with a username and password (at "Belsayuzdruk"/«Белсаюздрук» kiosk). Three hours of Internet connection will cost around €1 (1.65 BYR).
Emergency calls (god forbid)
In case of health emergency you will need to show your passport and insurance certificate.

Public Holidays
National holidays when all offices are closed (exception supermarkets and shopping malls) because we are celebrating:
1 January: New Year
7 January: Orthodox Christmas
8 March: Women's Day
Catholic Easter Day (Falls on a Sunday)
Orthodox Easter Day (Falls on a Sunday)
Commemoration Day (Radonitsa: 9th day after Orthodox Easter)
1 May: Labour Day
9 May: Victory Day
3 July: Independence Day
7 November: October Revolution Day
25 December: Catholic Christmas
Useful websites
minsktourism.by
– official Minsk tourist website. You can find a list of contacts and embassies in Belarus.
belarustourism.by – how to get to Belarus, what to do, and where to stay in Belarus.
rw.by – train tickets and schedules.
airport.by/en – Minsk National Airport.
minsktrans.by/en –public city transport, international and inter-city buses in Belarus.
kvitki.by –electronic tickets for cultural and sports events.
bycard.by – movie tickets online.
relax.by – entertainment catalogue.
34mag.net/en – media, magazine, events, education, publishing.
gpk.gov.by/en/gpk – State Border Committee website with the information about border crossing.